General
The Royal Scientific Society and the University of the West of England kick off the project "Integrating and Digitizing Resource Efficient Cleaner Production (RECP) in Food Industries: Towards Circular Economy in Jordan"
The Royal Scientific Society/Water and Environment Centre of Jordan (RSS) and the University of the West of England (UWE) kicked off the project "Integrating and Digitizing Resource Efficient Cleaner Production (RECP) in Food Industries: Towards Circular Economy in Jordan" on 23rd March 2021. The kick-off meeting was conducted virtually and attended by all partners of the project Decapolis, the Farm Dairy (AlMazara), Gheras Company, In addition to the RSS and UWE.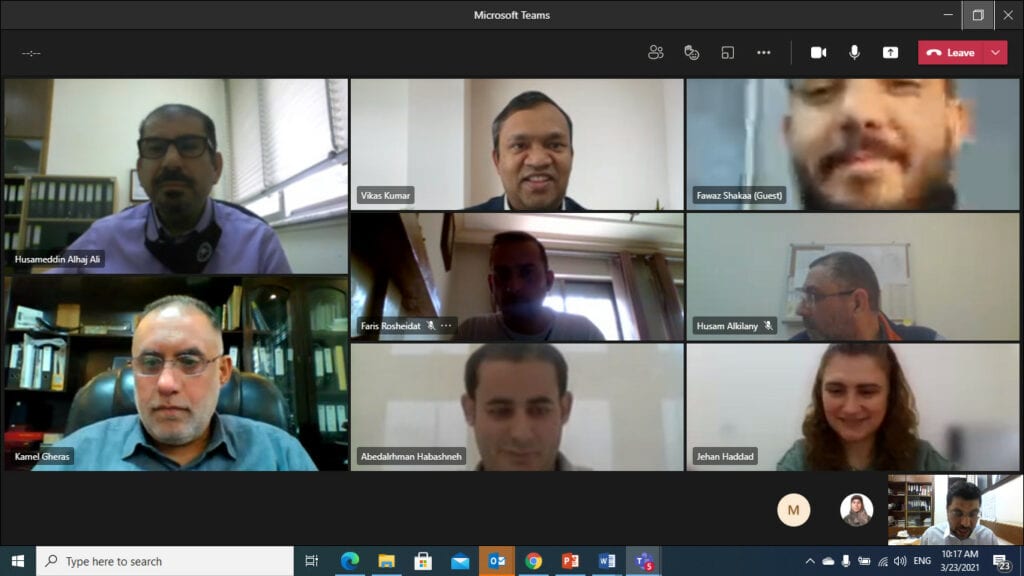 The project will last 16 months and primarily aims at enhancing the development of green food industries in Jordan through promoting Resource Efficient Cleaner Production (RECP). Dr Almoayied Assayed, the project manager and the director of Water and Environment Centre at RSS, went through the logical framework of the project and highlighted the main outcomes, which are:
1. integrating the principles of Resource Efficient Cleaner Production (RECP) in selected dairy industries in Jordan
2. Strengthening the demand and supply services of RECP amongst dairy industries and
3. Digitising the environmental and fiscal benefits of RECP through IoT tools and blockchain technology.
Prof Vikas Kumar, the Director of Research and the Professor of Operations and Supply Chain Management at UWE, talked about the design principles of industry 4.0 and elaborated on the distributive technologies of the food supply chain. Prof Kumar highlighted the importance of integrating blockchain technology and IoT into the food supply chain to overcome the challenges of food fraud and data gathering.  Eng. Husam AlKilani and Eng. Jehan Haddad, from the Cleaner Production Unit at RSS, explained the methodology of the Resource Efficient Cleaner Production (RECP) and pointed out the synergies between this TSP project and the current SwitchMed project that RSS has been implementing in collaboration with UNIDO. Mr. Michael Motta from Decapolis and Eng. Kamel Barghouthi from Gheras Company talked about the Decapolis innovative blockchain and IoT sensors and how this will be employed and integrated into this TSP project in order to gather the environmental benefits from RECP. Eng. Fawaz Shakaa, CEO of the Farm Dairy (AlMazraah), provided an overview of AlMazrah industry and stressed the importance of putting in place innovative digital tools to track the environmental and economic benefits of RECP.
The project is generously funded by the Royal Academy of Engineering (RAE) under the Transforming Systems through Partnership (TSP) program – in collaboration with Newton Khaldi fund and Higher Council for Science and Technology (HCST)/Industrial Research and Development Fund (IRDF).